Emerging as a smart city and major hub of the IT, hospitality, educational and medical sectors, Mangalore has become the investors' delight in the last decade. This enchanting coastal city in Karnataka, India, is evolving at an unprecedented pace thanks to the growth triggered by the recent boom in the various sectors.
The only destination that has been endowed with all the four modes of travel in form of air, water, road and rail, and home to some of the country's top educational institutions, healthcare facilities, banks, IT companies and manufacturing industries, Mangalore is certainly changing the face of Dakshina Kannada district for a better reason
The massive change in the lifestyle and the standard of living of the people in Mangalore clearly highlights the development of the place overall. Crucial ingestion of capital in the key sectors triggers the growth and therefore enhances the standard of living of the people. Rise in per capita income enhances the lifestyle and the spending capacity of the individuals. These important parameters allow the people to look for more than just necessities. The rise in demand always leads to cost and value of real estate. Basic wants give way luxury and high standard of living through a larger than life picture.
Of late, the rising presence of malls, branded showrooms, high-end hotels, and premium residential and commercial complexes in Mangalore is clear indicator that people are looking for the extraordinary experience and they are not hesitant to spend. This is the reason that the real estate sector is witnessing a windfall with skyscrapers rising in the Mangalore skyline.
Today, the city attracts individuals and families from various parts of India and abroad. An increase in job opportunities and salaries has brought professionals from different realms of work experience to reside in Mangalore. The regional boundaries are being modified every day to give way to the dreams of the thousands to own their 'Sweet Home'. One of the fastest growing hub and favourite of the builders is Shakthinagar.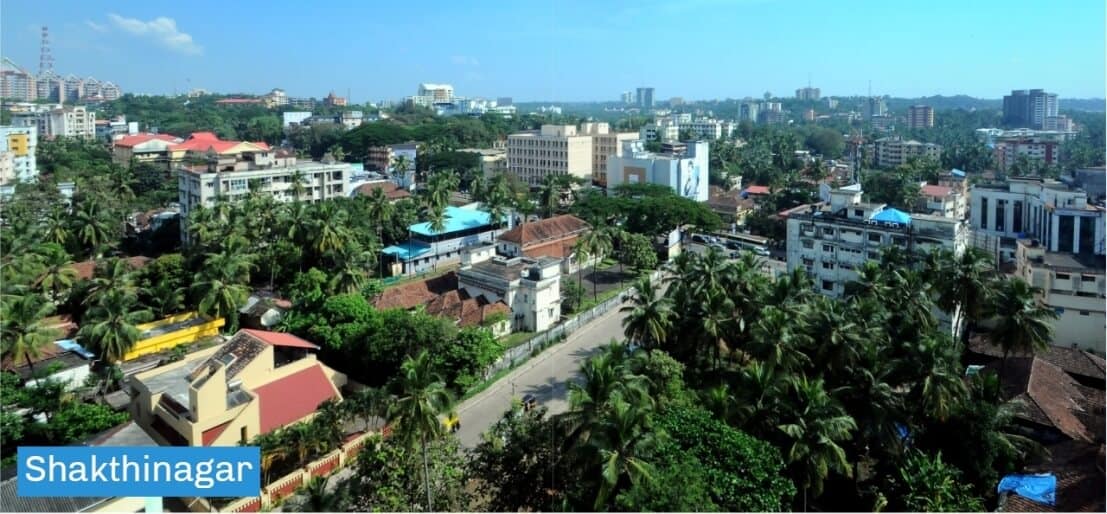 Shakthinagar is one of the fastest developing suburbs of Mangalore. Geographically, this area has a lot to offer to both the real estate investors' and the residents due to its close proximity to Kulshekar and Bikarnakatte.
Shakthinagar is flanked by the airport road on one side and National Highway 66 & 169 on the other sides and falls in the centre of Mangalore's city map. The area is well connected with easy access to major educational, commercial and medical institutions.
Some of the important landmarks in the vicinity are the magnificent five-storey Sri Gopalkrishna Temple at Classique Village, Mariagiri Church, and the spiritual retreat of the Sadhakas at Rama Shakthi Mission, the holy Bikarnakatte Mosque, the revered Vishwa Konkani Kendra and the Kalangana Dance Academy. Owing to its popularity, the city is now dotted with upcoming residential and commercial complexes that are well connected with best infrastructure.